Are You Ready for Eternity?
Do you ever think about life after death? What will it be like? Will the things you did in this life follow you into eternity? What are the souls of your departed loved ones experiencing right now? Far from being morbid, reflecting on what will happen to our souls at the moment of our death is not only fascinating, it also does us much good. When we contemplate the life that awaits us, it will help us to increase our faith, our hope, our love for God, and our desire to be with Him forever. It is a means by which we can learn more about our Savior and marvel at the greatness of how He has redeemed our fallen world. All of this is encapsulated in the Church's teaching on The Four Last Things.
What are The Four Last Things?
Every human soul will experience the same thing at the end of their earthly life: the soul will be separated from the body and immediately face the justice of God. After we give Him an account of our lives, the soul will receive one of two destinies: either blissful union with God forever, or painful separation from Him forever. The Church calls this The Four Last Things: Death, Judgment, Heaven, and Hell.
Many people have mistaken ideas about life after death, and believing what is false can put our souls in danger. In fact, there is no other subject that is more important to learn the truth about. And there is no other authority to which we can turn to tell us the truth about our eternal life than the visible Church founded by God Himself, Jesus Christ.
The Catholic Church teaches us everything we need to know about the meaning of life, what happens to us when we die, and what we will experience in eternity. There's no subject more fascinating to learn about. Reflecting on these amazing truths will allow us to live in the light of God's truth about who we are and where we're heading.
Why join this series?
The Four Last Things: Journey of a Soul is a in-depth 40-day journey through the Church's teachings on The Four Last Things. In this series you will learn how God has created the world and the human soul, the journey of the soul as it transitions from this world to the next, and the final destiny that awaits the good and the bad. Through the detailed explanations in this series you will begin to see life as God sees it, and gain a better understanding of the great importance of your every thought, word, and deed.
What will your eternal destiny be? God leaves the choice up to you. There is no better time than now to prepare your soul for eternity by studying the awesome truth that God has revealed to us through His Church.
What You Will Get
When you subscribe, you'll receive access to the The Four Last Things: Journey of a Soul for one full year, which includes:
Select any options (Gift, PDF) you want below, then click "Purchase"

You will be sent to our secure checkout page

Enter your payment and account information

If you have an account already but are not currently logged in, you will be prompted to do so

Submit your information to finish the checkout process and complete your order

After your order is confirmed, you will receive an email with further instructions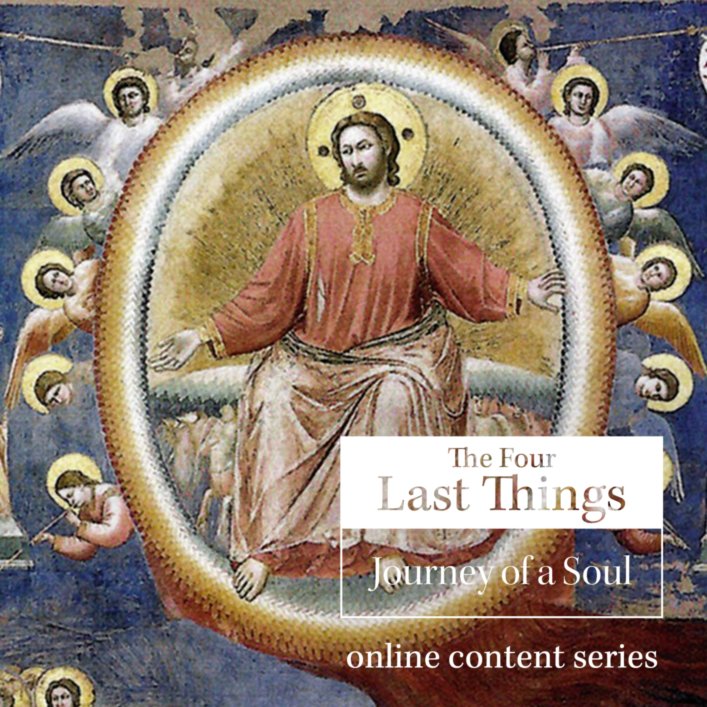 Purchase includes access to this series only.
Subscription expires one year after purchase date.
After you purchase this series, you will receive a subscription to it that is good for one full year, starting from your purchase date. This subscription gives you access to all of the currently released content for this series on GoodCatholic.com until the day it expires.
At the start of your subscription, and continuing for the following 40 days, you will receive daily emails to guide you through the series's content. You can also access any prior day's content at any time during your subscription, allowing you to go through the series at your own pace. You may also repeat the series as often as you wish up until your subscription ends.
" This series was life-changing for me. It made me remember and reflect on the lessons I learned in Catholic grade school. It strengthened my prayer life and brought peace to me. Now when I think of the troubles in the world, I remember that God is in control and we always have recourse to Him and his holy Mother. Thank you so much--I am so glad I did this. "
" This series provided an enrichment I was not expecting! I learned many aspects of the four last things that were new to me. Definitely deepened my focus on my faith and the infinite merits awaiting the faithful. My faith journey has taken on a renewed earnestness and steadfast focus on eternity. "
" This is a gift from God! Sobering realization of who you are living your life for - you or God. Each session will leave you reflecting on where you are in the journey and where you want to end up for eternity. "
" Thank you for a great journey! I learned much about the end that is really just the beginning. Some was exhilarating, some sobering, but all necessary to know. I especially liked what the saints had to say about the last 4 things. This course has given me much to ponder! "