Saint Bernadette Soubirous had a life that was an excellent example of patience—but not necessarily in the way we might think.
Bernadette Soubirous was born in Lourdes, France in 1844. Her once-successful father fell into hard times due to a failing economy and the family was forced to live in the small, dank, one-room cell of a former prison.
During her childhood Bernadette suffered from cholera and severe, chronic asthma. She also struggled with learning. A family friend who tried to prepare Bernadette for First Holy Communion became so impatient that she gave up, saying, "You will never learn anything!"
Even with her poor health, Bernadette was able to help her mother with household chores. While collecting firewood on February 11, 1858, at the age of fourteen, Bernadette saw a beautiful lady in a rocky outcrop called Massabielle on the banks of the Gave River.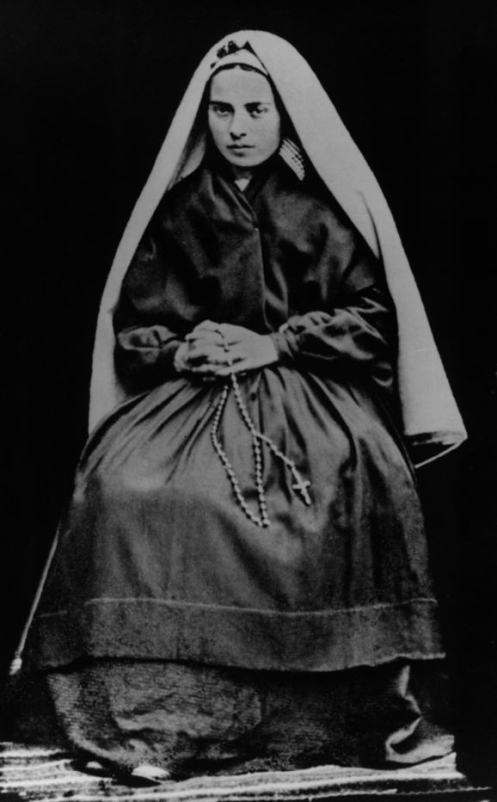 Here is how she described what happened:
"I heard a noise like a sudden gust of wind…When I raised my head and looked at the Grotto, I saw a Lady in white. She was wearing a white gown with a blue sash, a white veil and a golden rose on each foot, the same color as the chain of her Rosary, which had white beads. She was surrounded with withe light, but it was not a blinding light. She had blue eyes. I knelt and prayed the Rosary, in the presence of this beautiful Lady. She passed the beads of her Rosary between her fingers, but she did not move her lips. When I finished praying the Rosary, she made a sign to me to draw near to her, but I did not dare. Then she suddenly disappeared."
Bernadette's parents forbade her to return to the grotto. A few days later, on February 14th, however, she was permitted to go and the Lady appeared again. On February 18th she came again and this third visit the Lady spoke to her, asking Bernadette if she would be willing to come back to the grotto for fifteen more days. Bernadette agreed and the Lady said, "I do not promise to make you happy in this world, but in the next."
News of the apparition spread and each time Bernadette returned to the grotto, she was accompanied by crowds of pilgrims numbering in the hundreds and then the thousands. During these apparitions Our Lady asked Bernadette to pray and do penance for the conversion of sinners, and to ask the priests to hold processions at the grotto and build a chapel there. She also instructed Bernadette to dig with her hands in the soft soil at the base of the grotto, which revealed a natural spring."Go," said Our Lady, "drink from the spring and wash there."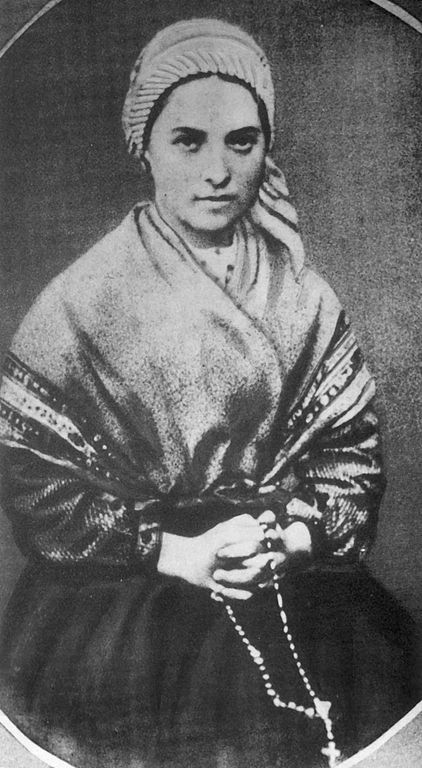 Later, one of the pilgrims returned to the grotto alone to bathe her paralyzed arm in the spring, and was completely healed. Bernadette would ask the Lady to reveal her name at various apparitions, because her parents and the police and the priests had repeatedly asked her who it was she saw. Each time she was asked, however, the Lady responded only with a smile. Yet Bernadette was patient and waited for an answer to her question. Finally, during one of the last apparitions, on the Solemnity of the Annunciation, the Lady revealed herself:
"With her two arms hanging down, she raised her eyes and looked up at the sky, and it was then that she told me, joining her hands together now at the height of her breast, that she was the Immaculate Conception. Those were the last words she ever said to me."
It quickly became known that it was truly the Blessed Virgin who had appeared to Bernadette—not just once, but an incredible eighteen times. Bernadette became widely famous. Although she received the incredible grace of this visit from Our Lady, she would suffer much because of it.
There are four ways in which we can learn the virtue of patience from Saint Bernadette. Patience can't be practiced in a merely passive way, but actively, for it requires the use of our free will. It is accompanied by the virtues of perseverance and persistence.
Here is a sneak peak of the four tips for practicing patience, taken from the Heroic Virtue series:
1. Patience Does Not Mean We Never Grow Weary
Bernadette relied on prayer and the prayers of others to carry her through her trials when they seemed almost unbearable. At one of her lowest moments she prayed:
O Mary, my gentle Mother, here I am, your child who can bear no more. See my needs and above all my spiritual distress. Have pity on me; grant that one day I may be with you in Heaven.
2. Patience Does Not Mean We Don't Fight
The police tried to wear down Bernadette's patience in order to obtain from her a false statement about the apparitions. Yet she remained calm and never backed down.
Even when they detained, interrogated, and harassed her as though she were a common criminal, Bernadette demonstrated heroic patience. When she was taken into custody and threatened with prison if she did not cooperate in falsifying her testimony of the apparitions, she was not deterred. Her interrogator attempted to trip her up, confuse her, and ascribe words to her that she had never said:
After writing a few lines as I had dictated them to him, he wrote down other things that were completely foreign to me. Then he said that he was going to read it aloud to see if he had made any mistakes, so I listened attentively, but scarcely had he read a few lines when there were already mistakes. I spoke up in a very forthright way: "Monsieur, that is not what I said." He became angry and he kept insisting "yes I had" and I kept repeating "no I had not"…We kept going through this same routine for about an hour and a half.
—St. Bernadette
3. Patience Does Not Mean to Never Be Annoyed
Patience helps us to bear trials with an even mind, but that does not mean that we are never annoyed or never let people know when they are out of line. Being patient does not mean being inhuman. Bernadette had a younger brother who was slow to respond to her letters, and she chided him accordingly (even with a sense of humor).
My Dear Pierre, You are evidently too lazy to write me…Pardon me if I am bothering you, but I am serious when I ask if you have made a vow not to write me anymore. I have been waiting for a letter from you for a year. Considering how much time has passed with no word from you, I finally decided to write and ask you to please let me know you are still alive…
—St. Bernadette
4. Patience is Hopeful Acceptance of God's Will
When faced with painful trials, we are tempted to become depressed, despondent, or angry, as if our heaven should be here and now. St. Bernadette challenges us to accept the suffering that comes to us with greater patience:
Whatever trials the Lord sends you, whatever sacrifices he asks of you, whatever duties he imposes on you, always have this response of love and faithfulness on your lips and in your heart: Here is your servant, O my God, ready to undertake all, to give all, to sacrifice all, to offer up all, as long as your will may be accomplished in me and on all the earth.
—St. Bernadette
How Do We Practice Patience?
The best way to begin practicing patience is to start small.
Each time we experience a conflict—delays, inconveniences, annoyances, irritations, disappointments, failures, and setbacks—we can learn to accept them with more serenity by taking a moment to consider that everything God permits, He permits for our ultimate good (Rom. 8:28). With this in mind we can choose not to become so upset that we lose our peace, and instead offer our pain to Him in that moment.
When we have built the virtue of patience with these little acts of the will, we then possess fortified souls that can stand strong under the weight of the great pains and sufferings that life will inevitably bring to us.
St. Bernadette, pray for us!
This post includes content taken from the series Heroic Virtue. Want to know the true story of Lourdes—minus the misunderstandings? Sign up for the online program Lourdes: The True Story.
Have you been praying for the virtue of patience?
How are you practicing patience? Did these lessons offer new tips for you?
Let us know in the comments below!